Every mobile phone has an International Mobile Equipment Identity (IMEI) number that acts as a unique identifier for that device (think serial number). No two mobile phones will have the same IMEI.
The IMEI number is actually printed onto your hardware i.e. your mobile phone; and also inside the phones software, making them almost impossible to change.
In addition, every time a phone uses a particular network to make or receive a call, send or receive a message, its IMEI number is automatically emitted and recorded.
This means, if you report the IMEI number to the police AND your network (telecom) provider / carrier, they can block the IMEI number and its device to be used on their and other networks. This is even true if a thief switches out the SIM card to his/her own.
For all the above reasons, the IMEI number is a very reliable way to identify as well as block, stolen or lost mobile phones.
When you have your phone in your hands finding your IMEI is EASY
Depending on device, usually, you should be able to see your IMEI number either on the:
Reverse side of a phone
On your SIM card holder (e.g. latest iPhones) or
Underneath the removable battery
You can also find it on-screen by dialing *#06#, a command to make the unique ID appear.
But what if you do not have the device in your hands i.e. what if your device has already gone missing or been stolen?
In this case, there are three ways you can go about it:
1. Check the original packaging of your phone for the IMEI

IMEI number can be found on the back of the original packaging of your smartphone
If you've saved the original box of your smartphone you are in luck! On the back of the package you will find a label that spells out the smartphones serial number and IMEI number.
If you cannot find your smartphone packaging, read on.
2. Call your carrier / network provider or sign in to their portal

Sign in to network (telecom) providers portal to see your IMEI number
If you have purchased your smartphone directly from your network (telecom) provider, your network provider will most likely offer you portal access where you can find all kind of information related to your phone, incl. the IMEI number. Just log in to their system via the website or via their app (if they have one) and look for these details.
If you cannot find it, just give a call to your network provider and ask them to tell you your IMEI number.
3. Check your iTunes or Google Find My Device
The third and final way to find your IMEI number when physically missing your device is to retrieve it from your phone makers service as you registered the phone with them on your first set up.
For iPhone:
If you've ever synced your iPhone with iTunes i.e. backed up your devices on your computer – the device data incl. the IMEI should be visible in the iTunes settings.

Go to the iTunes > Preferences tab if you are using a Mac, or to the Edit > Preferences tab on the PC version of iTunes.
Now, click on the devices button. Next, go to the Summary tab
Click on your phone number twice. Your IMEI should be visible after the second time.
Read also why it is important to report your IMEI number
here
.
For Android:
If you had Find My Device (or Android Device Manager) installed on your Android prior to losing your phone, sign in to Google Find My Device (formerly Android Device Manager) with your Google account to find your IMEI number. It's easy, this is how you do it:
Log into your Google Account
Click on the info. icon next to the registered device to show the IMEI number.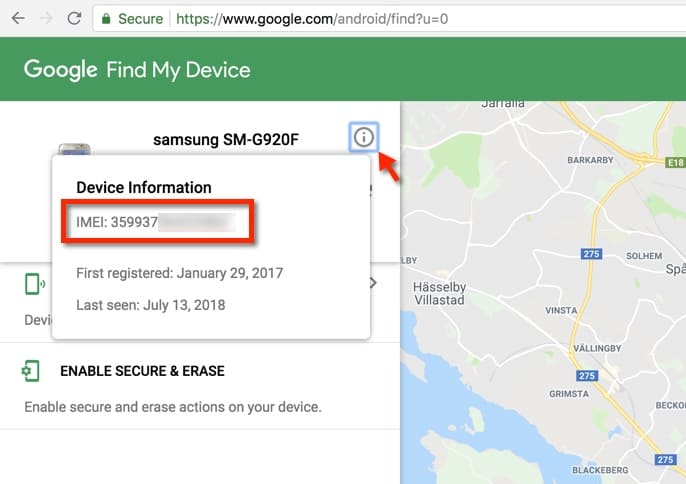 Do you know any other ways to retrieving your cell phone's IMEI number when you do not have physical access to the same device? Let us know in the comments below!